Logic and Reasoning
Thinking and problem-solving helps children take in information and understand how things in their world are related. Young children use their logic and reasoning skills in everyday experiences when they build with blocks, complete a puzzle, or discover that peeling the paper from around a crayon gives them more crayon to draw with.
Abby has sound clues for you to guess from.
Close
Play a guessing game! Describe a person or an object and have your child guess what it is. Try describing grandma or grandpa, the family pet, or your childs favorite toy!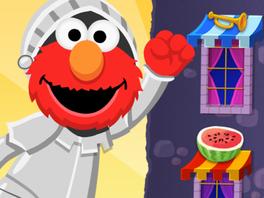 Help Knight Elmo find which thing is not like the others!
Close
Use things around the house (such as socks or your child's toys) to play "which of these things is not like the others?"
Pages