Science
Your child's favorite item from this Learning Area will appear here.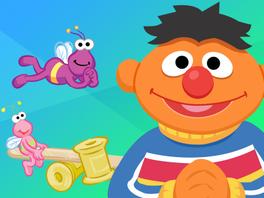 Experiment launching heavy and light objects.
Close
Experiment at home! Ask a question such as, ?Which of these balls will bounce the highest?? and help your child make a hypothesis. Test them out and then compare the results with your child?s guess.
Super Grover uses a magnet to attract metal.
Elmo and Abby sing about everything that a vet can do for animals.
Elmo, Abby, and Rosita pretend to be astronauts going to outer space.
An earthworm and a tree depend on one another.
Your child has not played anything yet