Math
Your child's favorite item from this Learning Area will appear here.
Astronaut Elmo delivers a pizza to space.
Close
At the end of activities you do with your child today, have a number 10 countdown! Just before it's time to clean up or transition, count together from 10 to 1. Then you're done!
Being "near" and "far" exhausts Grover.
Bert and Ernie sing about a circle.
Count the number of bees buzzing around.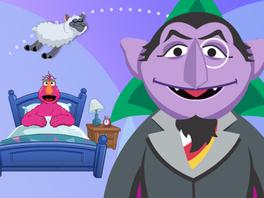 The Count helps Telly fall asleep by counting sheep.
Close
Before you play, ask your child how many sheep she thinks will put Telly to sleep. When he falls asleep, ask whether the number of sheep is higher, lower, or the same as her guess.
Your child has not played anything yet