Math
Your child's favorite item from this Learning Area will appear here.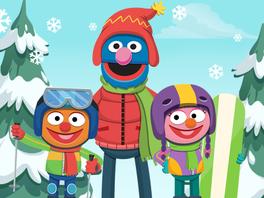 Get ready for skiing, snowboarding and ice skating with Grover!
Close
Create your own shape pattern challenge. Make a simple pattern such as square, circle, square, circle, square ? and ask your child what comes next. Try making harder patterns with three shapes.
Abby uses magic to show Cookie Monster how to subtract.
Close
Play your own subtraction game! Help your child draw 9 cookies on paper, and cut them out for her. As you give away cookies to people or to stuffed animals, encourage her to count how many are left.
Jack Black talks about the word "octagon."
Close
Make octagons! You and your child can create this eight-sided shape by using eight crayons, spoons, or blocks. Each time you make one, count the sides and angles. How many ways can you make octagons?
Your child has not played anything yet