Logic and Reasoning
Your child's favorite item from this Learning Area will appear here.
Ernie plays an animal noise game.
Kermit and Cookie Monster play a guessing game.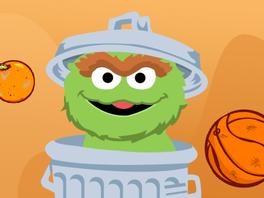 Help Oscar sort the trash.
Close
Practice sorting and recycling with your child. Ask her to help you place paper items in one bin and plastic items in another bin.
A song about using feet, buses, and planes.
Dorothy imagines Elmo as different animals.
Your child has not played anything yet