Literacy
Your child's favorite item from this Learning Area will appear here.
Oscar reads to Slimey about Trash Gordon.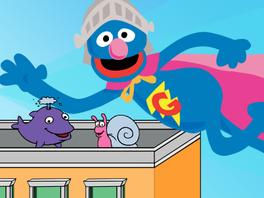 It's super rhyme time with Super Grover!
Close
Help your child rhyme like Super Grover! Try to remember some of the objects from the game and see if you can think of another word that ends in the same sound.
Zoe Saldana explains the word "transportation."
Bill Hader, Murray, and Elmo explains the word grouchy.
Cookie Monster shows us the letter of the day.
Your child has not played anything yet