Literacy
Your child's favorite item from this Learning Area will appear here.
Cookie Monster sings about the letter C.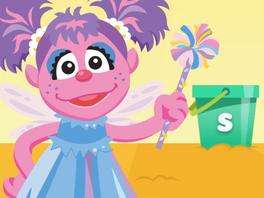 Dig in the sand with Abby to find fun objects!
Close
Pick your favorite letter from the game, talk about its sound, and list some words that begin with it. Then, go on a hunt around your home to find three more things that start with that letter.
Emma Stone and Abby Cadabby explore the word "balance."
Elmo and Halle Berry demonstrate the word ?nibble?.
Thumbprints help tell a story about P words.
Your child has not played anything yet