Literacy
Your child's favorite item from this Learning Area will appear here.
Kermit and a Zulu tribe sing an alphabet song.
Brittany Snow and Elmo explain the word friend.
Close
It's fun to make new friends! Use puppets or stuffed animals to act out what your child would do if he wanted to make a new friend! Encourage him to share his name, and ask, "Can I play with you?"
Jimmy Kimmel explains the word "sibling."
Blast off for an alphabet song in outer space!
Close
Go on a letter hunt! Pick a letter and see how many times you can find it as an uppercase letter and as a lowercase letter. Signs, store windows, and books are great places to look!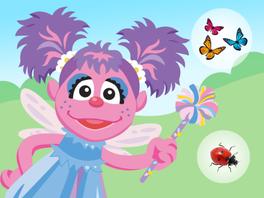 Explore and find words to add to your collection!
Close
Be word collectors at home! Choose a color or a shape, then challenge your child to look for things of that color or shape. Create your own word collection; write down new words your child learns.
Your child has not played anything yet