Health
Your child's favorite item from this Learning Area will appear here.
Grover and Mrs.Obama discuss a very important meal: breakfast.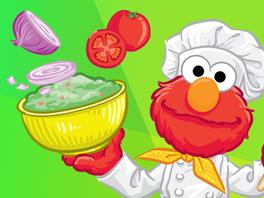 Help Elmo pop the bubbles to make Guacamole!
Close
The next time you cook a meal, invite your child to be your ingredient helper. Encourage him to help you count out the different ingredients and put them into a bowl.
Exercise and stay healthy with Grover and friends!
A girl's friend helps her practice basketball.
Elmo and Super Grover dance to the word "Go."
Your child has not played anything yet