Health
Your child's favorite item from this Learning Area will appear here.
Everyone has a daily routine! Learn about one girl starts her day.
Oscar sings a song for the worms workout.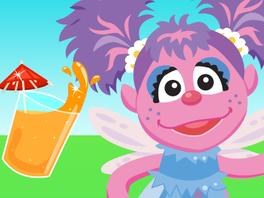 Learn colors and patterns making smoothies with Abby!
Close
Help boost your child?s vocabulary by helping him describe the food on his plate at meal or snack time. Talk about the colors of the food. Is he eating something that?s crunchy or soft?
Elmo and Super Grover dance to the word "Go."
Walking is a great way to keep in shape!
Your child has not played anything yet