Health
Your child's favorite item from this Learning Area will appear here.
Elmo and Super Grover dance to the word "Go."
Adults can help take care of teeth.
Chef Explorer Elmo dances with the Queen of Nacho Picchu.
Close
Do the guacamole! Dance along with Elmo, and then make up some of your own moves! How do YOU do the guacamole?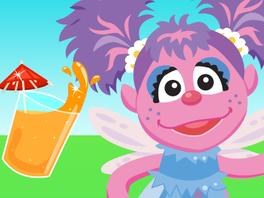 Learn colors and patterns making smoothies with Abby!
Close
Help boost your child?s vocabulary by helping him describe the food on his plate at meal or snack time. Talk about the colors of the food. Is he eating something that?s crunchy or soft?
Your child has not played anything yet