Emotional Development
Your child's favorite item from this Learning Area will appear here.
A mother and child draw on a foggy window.
Cookie Monster sings a song about being blue.
Bert helps Ernie feel special.
Oscar teaches how to do the "no" dance.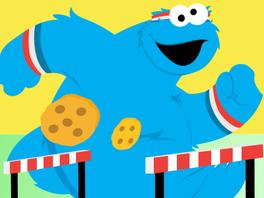 Help Cookie Monster manage his feelings while competing in archery, rings, and hurdles!
Close
Ask your child to show different feelings with his face like excited, frustrated, or scared. Take turns showing a feeling while the other person guesses!
Your child has not played anything yet