Arts
Your child's favorite item from this Learning Area will appear here.
Elmo and Telly sing about ducks and cows.
Segi and her friends dance the Snazzy Shuffle.
Close
Do the Snazzy Shuffle, and then make up your own dance together! Pick a favorite song and make up 3 dance moves. You can even teach your dance to family and friends!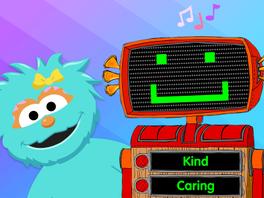 Express yourself by creating your own song.
Close
Celebrate your child's strengths! During the day, point out the things he is good at such as singing a song for his baby brother or putting on his shoes.
A song from the Cookie Thief about loving cookie art!
Grover gives one lucky person a home renovation.
Your child has not played anything yet