Science
Your child's favorite item from this Learning Area will appear here.
Elmo fish and Abby fish sing about life in the Sesame Ocean!
Elmo imagines he can travel through space.
Find out what this penguin's habitat is.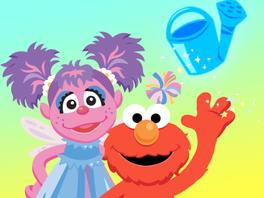 Help Abby and Elmo plant a new garden and learn what plants need to grow.
Close
Create your own garden at home! Put soil into the cups of an empty egg carton. Plant one seed in each cup, place the carton near a window, and spray it with water every day. Watch your seeds sprout!
Elmo, Abby, and Rosita pretend to be astronauts going to outer space.
Your child has not played anything yet