Science
Your child's favorite item from this Learning Area will appear here.
Elmo, Abby, and Rosita pretend to be astronauts going to outer space.
Count along! 12 tiny eggs hatched on the shore and 12 sea turtles are ready to explore!
Murray explores the word "engineer."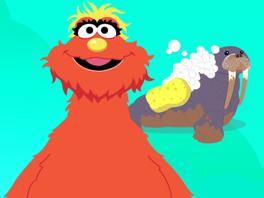 Help Zookeeper Murray wash the animals!
Close
Talk together about the animal you?re cleaning. What do you think it eats? Where do you think it lives? What sound do you think it makes?
Leela sings her niece to sleep.
Your child has not played anything yet