Math
Your child's favorite item from this Learning Area will appear here.
A girl counts the different animals at the hoedown.
The Count counts backwards in Spanish.
Sing along as we count to the number five.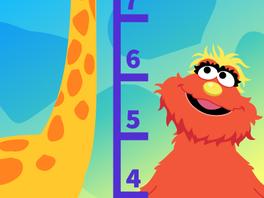 Help Zookeeper Murray measure animals at the zoo!
Close
After you help Murray measure the animals, talk about other things you can use to measure. Help your child measure the length of a favorite toy using crayons or blocks.
Big Bird and Snuffy count Snuffy's feet.
Your child has not played anything yet