Math
Your child's favorite item from this Learning Area will appear here.
Baby Bear draws Hero Guy in different sizes.
In this Game of Thrones spoof, contestants play musical chairs.
Join the Pentatonix as they count to five.
Close
Hunt for numbers on the way to the grocery story. Your child can call out the numbers she sees on houses, street signs, and license plates.
The monster clubhouse meets and plays games.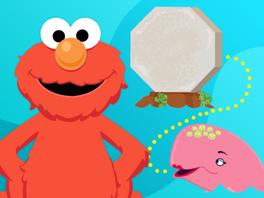 Help Sea Captain Elmo get to Moby Pink!
Close
Go on a shape hunt around your house! How many ovals, squares, and hexagons can you find?
Your child has not played anything yet