Literacy
Your child's favorite item from this Learning Area will appear here.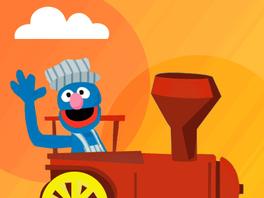 Drive the train and help conductor Grover collect rhyming words!
Close
Rhyming is fun! Ask your child to say a word and then you say another word that ends in the same sounds. Take turns starting and finishing rhymes. How many rhyming pairs can you make?
African animal alphabet song
Snuffy and Bird learn the Spanish for phone.
Mindy Kaling and Elmo explain the word enthusiastic.
Close
Together, create an activity calendar for the week, and plan one activity each day that your child is enthusiastic about and can look forward to. Ask him what makes him feel really excited.
A circus shows the letters of the alphabet.
Your child has not played anything yet