Learning Areas Summary
Your child has not played any videos, games or drawn with art maker.
Suggestions to get you started!
Elmo guesses what is in the sky.
Close
With your child, make a picture of the sky! Talk about the different things that you might find in the sky like stars, a plane, or clouds. How many different things can fit in your sky?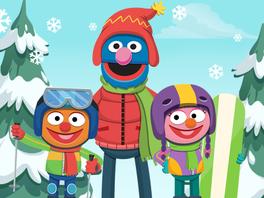 Get ready for skiing, snowboarding and ice skating with Grover!
Close
Create your own shape pattern challenge. Make a simple pattern such as square, circle, square, circle, square ? and ask your child what comes next. Try making harder patterns with three shapes.
Top Learning Area
Prioritized Learning Area
Top Learning Area
Prioritized Learning Area
Top Learning Area
Prioritized Learning Area
Top Learning Area
Prioritized Learning Area
Your child has not played anything yet