Math
Your child's favorite item from this Learning Area will appear here.
Being "near" and "far" exhausts Grover.
Who is the heavyweight champ?
LL Cool J and Elmo add 'em up!
Close
Go on an addition expedition! Walk around your neighborhood and add things that you see. Try counting how many black cars you see on a block, and add it to how many blue cars you see on that block!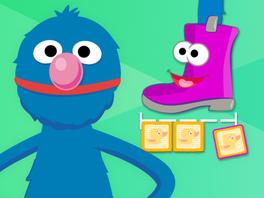 Measure the foot and find the shoe that fits!
Close
Together with your child, use household objects such as blocks or crayons to measure her foot. Then, measure your own foot with the same object and compare the lengths.
The Count counts potatoes and other things.
Your child has not played anything yet