Learning Areas Summary
Your child has not played any videos, games or drawn with art maker.
Suggestions to get you started!
Romeo Santos and Elmo sing about making new friends.
Close
Use puppets or stuffed animals to act out what you child would do if he wanted to make a new friend! Encourage him to share his name, and say, "I want to be your friend!"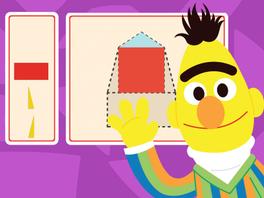 Fill in the picture with shapes to create an image!
Close
Cut out three of the same sized rectangle. Leave one of them whole, cut one into two triangles, and cut the other into two squares. Mix up the triangles and squares and ask your child to try to put them together to make the rectangle.
Top Learning Area
Prioritized Learning Area
Top Learning Area
Prioritized Learning Area
Top Learning Area
Prioritized Learning Area
Top Learning Area
Prioritized Learning Area
Your child has not played anything yet