Logic and Reasoning
Thinking and problem-solving helps children take in information and understand how things in their world are related. Young children use their logic and reasoning skills in everyday experiences when they build with blocks, complete a puzzle, or discover that peeling the paper from around a crayon gives them more crayon to draw with.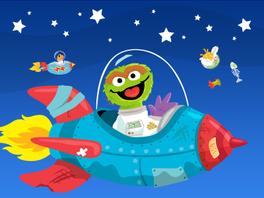 Help Oscar collect stinky trash in a spaceship, sub or airplane!
Close
Create your own collecting adventure! Hide blocks around the room and give your child clues to find them. Use language such as ?under the table,? ?between the chairs,? and ?next to the couch.?
Hide and laugh with Elmo and the Noodle family as they play a silly game of Peek-A-Boo!
Pages