Science
Your child's favorite item from this Learning Area will appear here.
Elmo imagines himself in the sky.
Close
With your child, look up at the sky during the day and draw a picture of what you see. Look up at the sky again at night and draw another picture. How is the sky different during the day and at night?
A song from the episode Music Magic
Murray explores the word "engineer."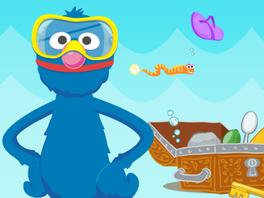 See if it sinks or floats with Cookie Monster!
Close
Do your own sink or float investigation at bath time with bottles of shampoo, toys, and soap. Make a hypothesis about whether you think each item will sink or float, then try it out!
Super Grover uses a magnet to attract metal.
Your child has not played anything yet