Math
Your child's favorite item from this Learning Area will appear here.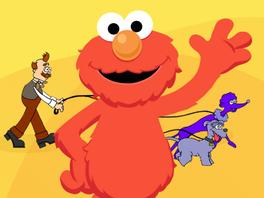 Help Mr. Noodle find all the dogs!
Close
Take a walk around your neighborhood with your child, and together, count how many dogs you see. How are they similar and different from each other? Think about their size, fur, ears, and tails.
The count shows us the Number of the Day.
Big Bird and Snuffy count Snuffy's feet.
Eight chicken sailors help Sea Captain Elmo raise an anchor.
Close
Practice adding with your fingers! You can put up 4 fingers, and then add 2 more. How many fingers are there altogether? Then, put up 3 more fingers. How many fingers are there now?
The Count sings all about 8.
Your child has not played anything yet