Math
Your child's favorite item from this Learning Area will appear here.
Abby uses magic to show Cookie Monster how to subtract.
Close
Play your own subtraction game! Help your child draw 9 cookies on paper, and cut them out for her. As you give away cookies to people or to stuffed animals, encourage her to count how many are left.
Marshall Grover shows "in front" and "behind."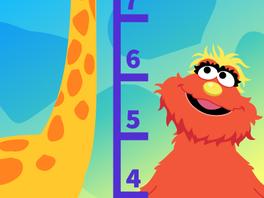 Help Zookeeper Murray measure animals at the zoo!
Close
After you help Murray measure the animals, talk about other things you can use to measure. Help your child measure the length of a favorite toy using crayons or blocks.
Eight chicken sailors help Sea Captain Elmo raise an anchor.
Close
Practice adding with your fingers! You can put up 4 fingers, and then add 2 more. How many fingers are there altogether? Then, put up 3 more fingers. How many fingers are there now?
Five dogs catch five bones!
Your child has not played anything yet