Health
Your child's favorite item from this Learning Area will appear here.
Eat your colors every day.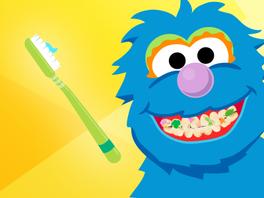 Practice brushing teeth with Guy Smiley.
Close
Help your child learn to take good care of her teeth. Brush them all over in small circles twice each day!
Chef Explorer Elmo dances with the Queen of Nacho Picchu.
Close
Do the guacamole! Dance along with Elmo, and then make up some of your own moves! How do YOU do the guacamole?
Your child has not played anything yet