Emotional Development
Your child's favorite item from this Learning Area will appear here.
Gina and Rosita sing about Marco's body parts.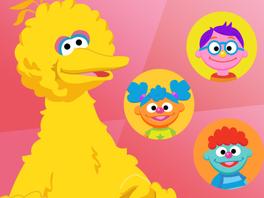 Match a face to the emotion.
Close
Ask your child to show you a happy face, sad face, angry face, and surprised face. Then, play a game where you each make faces and see if the other person can guess the emotion. Take turns!
Elmo sings about things he loves.
A girl carefully writes "mom."
Elmo imagines he's a famous tap dancer.
Close
Make up your own silly dance! Create three different moves such as jump, twirl, and shake, and do them one by one. Turn on the music and try to put them together.
Your child has not played anything yet