Logic and Reasoning
Your child's favorite item from this Learning Area will appear here.
The Smart Cookies try to solve the Ginger Snap Case.
Hide and laugh with Elmo and the Noodle family as they play a silly game of Peek-A-Boo!
This Halloween, watch out for The Walking Gingerbread!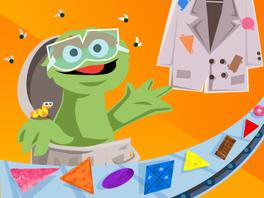 Make a filthy mess with Oscar the Grouch!
Close
Go on a shape hunt. Draw five shapes on a piece of paper and then go for a walk and look for items that are the same shape. When you find one, check it off. Try going on a color hunt next.
Your child has not played anything yet